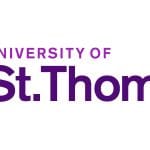 Website University of St. Thomas
All for the Common Good
The Political Science Department at the University of St. Thomas invites applications for a tenure-track position at the rank of Assistant Professor to begin September 1, 2022.  We are seeking a political scientist with specializations in American Political Institutions (Executive Politics and/or Legislative Politics) and Quantitative Methods.
The successful candidate will be expected to teach undergraduate courses such as Congress and the Presidency, Seminar in American Politics, Research Methods, Citizen Participation and Public Policy, and our introductory course, Government and Politics.  This position allows for development of upper-level quantitative courses that would support both the political science major and the American Politics domain within the Data Analytics program.
The University of St. Thomas is a dynamic, urban university with 10,000 students and 450 full-time faculty.  Located in a residential neighborhood with easy access to both of the Twin Cities, we are a liberal arts institution that values excellence in teaching and research and actively promotes diversity, equity, and inclusion as an expression of our mission.   The department of political science actively works to attract, retain, and develop faculty from all backgrounds to enhance the diversity of the learning community and to offer our students richly varied perspectives.
The University of St. Thomas embraces diversity, inclusion, and equal opportunity for all.  Our convictions of dignity, diversity, and personal attention call us to embody and champion a diverse, equitable, and inclusive environment.  We welcome applicants of diverse races, ethnicities, geographic origins, gender identities, ages, socioeconomic backgrounds, sexual orientations, religions, work experience, physical and intellectual abilities, and financial means.  We are committed to building a team that represents a variety of backgrounds, perspectives, and skills.  This commitment is consistent with our mission:  Inspired by Catholic intellectual tradition, the University of St. Thomas educates students to be morally responsible leaders who think critically, act wisely, and work skillfully to advance the common good.
QUALIFICATIONS
A PhD in political science (U.S. or Foreign Equivalent), or alternatively ABD will also be considered.   ABD candidates will be eligible for an initial rank of instructor.  All applicants must have demonstrable skills necessary for excellence in teaching.
How to Apply
All application materials must be submitted online at http://www.stthomas.edu/jobs/. In addition to creating an applicant profile, please upload the following materials as additional documents:
1) Curriculum vitae
2) Copy of academic transcript
3) Statement of teaching philosophy and experience, including evidence of teaching effectiveness
4) Description of research agenda
5) Two letters of recommendation
To ensure full consideration, all application materials must be received by Friday, October 15, 2021.  The position will remain open until filled.  Questions about the position should be directed to the department chair (Angela High-Pippert (ahighpippe@stthomas.edu)).  If you encounter issues with the application process, please email Human Resources (employment@stthomas.edu).
The University of St. Thomas, Minnesota Human Resources Department advertises the official job listing on its website at www.stthomas.edu/jobs.
The University of St. Thomas is an Equal Opportunity Employer