National Conference of Black Political Scientists Mourns the Loss of Legendary Scholar Dr. Robert C. Smith
February 12, 1947 – April 13, 2023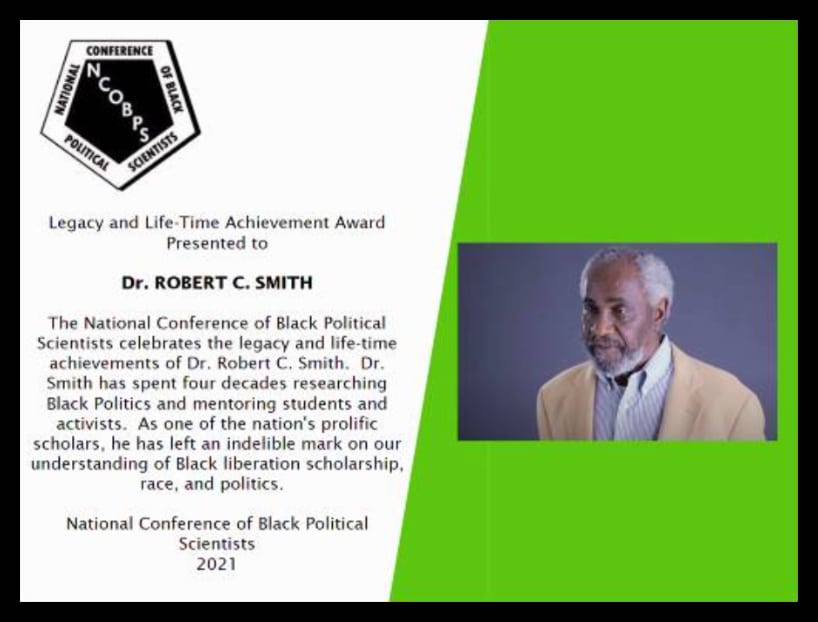 [Itta Bena, Mississippi] – The National Conference of Black Political Scientists (NCOBPS) is deeply saddened to announce the transition of Dr. Robert C. Smith, a renowned, nationally-recognized scholar in the fields of Black politics, the presidency, and Congress in the United States. Born in Benton, Louisiana, Dr. Smith left the Jim Crow, segregated south to move to Los Angeles, CA, where he earned his B.A. degree from University of California–Los Angeles, M.A. from the University of California–Berkeley, and his Ph.D. in Political Science from Howard University. He chronicles his own life journey in From the Bayou to the Bay: the Autobiography of a Black Liberation Scholar, described as a "refreshingly candid intellectual autobiography [that] traces the evolution of [Smith's] consciousness and identity from his early days in rural Louisiana to his emergence as one of the nation's leading scholars of African American politics" (SUNY Press).
Dr. Smith was a distinguished Professor Emeritus of Political Science at San Francisco State University (SFSU) and was widely known for his groundbreaking research on African American politics. He authored or co-authored numerous articles and multiple books, including: Race, Class, and Culture: A Study in Afro-American Mass Opinion; Racism in the Post-Civil Rights Era: Now You See It, Now You Don't; We Have No Leaders: African Americans in the Post-Civil Rights Era; African American Leadership; Conservatism and Racism and Why in America They Are the Same; John F. Kennedy, Barack Obama, and the Politics of Ethnic Incorporation and Avoidance; Power, Philosophy and Egalitarianism: Women, the Family and African Americans, and Questions of Character: The Presidency of Donald J. Trump, among others. He made immense and nuanced contributions to the understanding of the African American experience in American politics and society.
Dr. Smith's indelible impact extended beyond his scholarly works to his mentoring, supporting and promoting new scholars. As a former associate editor of the National Political Science Review, guest co-editor on the inaugural National Review of Black Politics, and the general editor of the State University of New York (SUNY) Press African American Studies series (for many years, edited with John R. Howard), he keenly and deftly moved works of junior scholars to publication. He is co-author on the leading textbook in the field of African American Politics, American Politics and the African American Quest for Universal Freedom, and author of the Encyclopedia of African American Politics. In addition, he wrote a biography of his mentor, longtime Howard University professor, Ronald Walters, whom he considered the most consequential African American political scientist of the last half-century entitled, Ronald W. Walters and the Fight for Black Power, 1969-2010. He wrote another biography of Hanes Walton, the prolific political scientist and academic extraordinaire, called Hanes Walton, Jr.: The Architect of Black Science of Politics.
Dr. Smith's dedication to research and teaching spanning over three decades was widely respected and recognized given his frequent appearances on local, national and global media, and the receipt of numerous awards, including Howard University's Distinguished Ph.D. Alumni Award in 1998 and the first Life and Legacy Achievement Award from the National Conference of Black Political Scientists in 2021 for his outstanding contributions to the field of Political Science and African American studies.
His co-author, Dr. Sherri L. Wallace expressed, "Robert will be remembered in academia as a quintessential scholar-teacher. He was inquisitive and a prolific writer until the end. Yet, after a visit to his home, spending time with him and with his family, I realized what he valued most in life was his unwavering devotion and love shared with his wife, Scottie–the love of his life–and their children and grandchildren, Blanch, Jessica, Scottus-Charles, Karysa and Grayson. This is his most cherished legacy." The National Conference of Black Politiciial Scientists expresses its deepest condolences to his family, friends, and the entire NCOBPS community during this difficult time. Dr. Robert C. Smith will be dearly missed, and his memory will live on through his work and the lives he touched as an immeasurable and lasting legacy that will continue to inspire and inform generations to come.