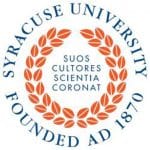 Website Syracuse University, Department of Political Science
Syracuse University
American Politics
The Department of Political Science seeks a tenure-track Assistant Professor in American Politics. The search is open to candidates whose teaching and research focus on political institutions broadly. We are particularly interested in candidates who study public policy, Congress, the bureaucracy, interest groups, and/or race.
The political science department is housed within the Maxwell School of Citizenship and Public Affairs, which is committed to citizenship education at the undergraduate level and to graduate education in public affairs and the social sciences. We seek candidates who complement the broader Maxwell mission and have interdisciplinary interests. Successful candidates may be invited to affiliate with the Campbell Public Affairs Institute or one of Maxwell's other interdisciplinary centers (http://www.maxwell.syr.edu/centers/).  The successful candidate will teach at both the undergraduate and graduate level.  The typical course load is 2 classes a semester.
Applicants should have a Ph.D. in political science or a related field or a credible expectation of completing all requirements for the Ph.D. by August 2024. The Maxwell School is interested in candidates who can contribute to the inclusiveness and diversity of the academic community through their research, teaching, and/or service.
APPLICATION INSTRUCTIONS:
For consideration, candidates must complete an online faculty application (available at http://www.sujobopps.com/) and attach online the following: a letter of interest and a CV, a research statement, a sample of professional writing, a statement of teaching philosophy, and evidence of quality teaching. Files may be no larger than 5MB, but you may submit an external link to a larger file if needed.
In addition, applicants will be required to provide the full email addresses of three references.
Applications will be reviewed as they arrive with full consideration given to those received by October 1, 2023. However, the department will continue to consider applications until this position is filled. We encourage dual career academic couples to apply as well.
Syracuse University is an equal-opportunity, affirmative-action institution. The University prohibits discrimination and harassment based on race, color, creed, religion, sex, gender, national origin, citizenship, ethnicity, marital status, age, disability, sexual orientation, gender identity and gender expression, veteran status, or any other status protected by applicable law to the extent prohibited by law. This nondiscrimination policy covers admissions, employment, and access to and treatment in university programs, services, and activities.