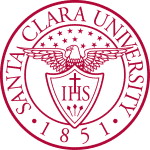 Website Santa Clara University
The Jesuit university in Silicon Valley
The Department of Political Science at Santa Clara University, a Jesuit, Catholic university, seeks applicants for a tenure-track assistant professor position in Race, Ethnicity, and Politics.
We are especially interested in scholars who focus on public policy, urban politics, or social movements. We seek a teacher-scholar with demonstrated commitment to, and excellence in, undergraduate teaching and scholarly achievement. We are open to applications from those in disciplines closely related to political science and especially interested in candidates with a policy focus that will contribute to the Department's Public-Sector Studies Emphasis. This position is part of a cluster hire in Race, Inequality, and Social Justice. The other participating departments are Art & Art History, English, Psychology, Public Health, and Religious Studies. The position will begin on September 1, 2023.
Applicants must have a Ph.D. at the time of appointment and a clear research trajectory, with experience teaching at the university level and a record of publication strongly preferred. The person we hire will teach a lower-division course in U.S. Politics, upper-division courses in their area of specialty, and either qualitative or quantitative research methods.
For full consideration, applications should be submitted by September 2, 2022 at the following link: https://www.scu.edu/hr/careers/. Applicants should submit: (1) a cover letter addressing teaching and research interests, teaching philosophy, and experience or interest in working with people of diverse cultures and identities, (2) a CV, (3) sample syllabi and teaching evaluations, (4) a writing sample of no more than 40 pages, and (5) unofficial graduate transcripts. Three confidential letters of recommendation must be emailed directly to the department manager, Casey Robertson, at crobertson2@scu.edu by either the recommenders or a dossier service. For further information about the search, please contact the department chair, Greg Corning, at gcorning@scu.edu.
Located in the heart of northern California's Silicon Valley, Santa Clara is a private, Jesuit, Catholic university committed to promoting social justice in a comprehensive educational setting. Faculty are teaching-scholars who balance a commitment to quality teaching with active programs of research. SCU is on the quarter system and a typical teaching load is two courses per quarter. Faculty receive scholarship support through sabbaticals and travel funds. Housing assistance is available.
Santa Clara University is an Equal Opportunity/Affirmative Action employer committed to the strategic goal of enriching the quality of our community of scholars by increasing the diversity among faculty, staff, and students. Women, persons of color, and members of historically underrepresented groups who can contribute to this goal are especially encouraged to apply and to identify their strengths, experiences, or interests related to achieving this goal in their letter of application.