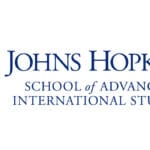 Website SAISHopkins Johns Hopkins University - School of Advanced International Studies
Higher Education - International Studies
Edward B. Burling Chair in International Law and Institutions
The Johns Hopkins University School of Advanced International Studies (SAIS) seeks candidates to fill a tenured faculty position, the Edward B. Burling Chair in International Law and Institutions. Named after Edward Burling, a colleague of SAIS founders Paul Nitze and Christian Herter, the position is particularly suited to international law scholars whose research relates to world politics or the global economy. The previous three holders of this chair, Stephen M. Schwebel, Christoph Schreuer, and Ruth Wedgwood, were distinguished policy advisers and eminent scholars. We are seeking candidates with similar–or the prospect of similar–achievements, who will be the principal face for the study of International Law at SAIS. Applications must include the following:
·         A cover letter addressed to Professor Deborah Brautigam, Search Committee Chair
·         A curriculum vitae
·         A list of three references
Applications will be accepted on a rolling basis and may be directed to Professor Deborah Brautigam, c/o The Office of Faculty Affairs, attention Isabelle Talpain-Long (itlong@jhu.edu), the Nitze School of Advanced International Studies, 1740 Massachusetts Avenue NW, Washington, DC 20036. Review of applications will begin on November 1, 2020, and continue until the appointment is filled. The appointment will commence as early as July 1, 2021.
Johns Hopkins University is committed to the active recruitment of a diverse faculty and student body. We are particularly motivated to seek candidates who enhance faculty diversity and foster the institution's goal of inclusive excellence.
The University is an Affirmative Action/Equal Opportunity Employer of women, minorities, protected veterans and individuals with disabilities and encourages applications from these and other protected group members. Consistent with the University's goals of achieving excellence in all areas, we will assess the comprehensive qualifications of each applicant.